So yeah, you heard it right. I do believe that miracles happens and that too directly from my own garden, when i have used fresh aloe vera gel on my skin and hair for consistantly for limited period of time. Also, ancient Egyptians called it the "plant of immortality." Since then, its uses have become more targeted and medicinal, and it's one of the leading therapies for sunburns and tanning.
Aloevera is a cactus plant that belongs to the Liliaceae family. It grows in dry climates such as those found in parts of Africa and India and has been used medicinally for centuries.
Aloe leaves secrete a clear gel that when broken off from the rest of the plant that can be applied topically to heal wounds and soothe skin.

Moisturizes skin
Aloe vera hydrates and moisturizes your skin. It enhances your skin's elasticity and makes it healthy and supple. When applied, it penetrates deep into the skin and restores its pH balance. Also, since it is in gel form, it is not oily and can be used on all types of skin. All you have to do is, peel off the outer layer of an aloe vera leaf and rub the gel after scooping it out. Massage it on your face, neck and other parts of your body every day.
Prevents premature ageing
You can use aloe vera gel to delay signs of ageing such as wrinkles, fine lines and sagging skin as it has high antioxidant content that stimulates skin regeneration. You can make an exfoliating aloe vera gel mask by blending one teaspoon of aloe vera gel with one teaspoon of ground oatmeal and half teaspoon of olive oil. Apply this face mask all over your face and neck. After 30 minutes, using wet hands, scrub off the mask and rinse with cold water. Use this mask once a week for better results.
Promotes hair growth
Aloe vera gel is not only a skincare ingredient, it can also help you with your hair woes. It helps to remove the dead cells from your scalp so that your hair follicles do not get clogged, which results in dandruff. The gel also balances the pH balance of your scalp and promote hair growth. To make a nourishing hair mask, mix aloe vera gel and castor oil in the ratio of 2:1 in a bowl. Apply this mixture onto your scalp. Leave it overnight and wash it off with a mild shampoo in the morning. Repeat this twice a week for healthy and lustrous hair.
Fights acne
Aloe vera gel has anti-bacterial properties which helps to fight the bacteria, responsible for acne and breakouts. It also has anti-inflammatory properties which heals your skin and stimulates the growth of new cells. To make an anti-acne aloe vera gel mask, mix one teaspoon of aloe vera gel with half teaspoon of honey and half teaspoon of freshly squeezed lemon juice. Apply this mixture on the affected area. Post 15 minutes, wash it off with water. Repeat this twice daily to reduce appearance of acne on your face. You can also freeze the aloe vera gel in an ice cube tray and then use it on acne affected area twice or thrice a day to soothe the burning sensation.

Treats sunburn and tanning
Aloe vera gel has soothing and anti-inflammatory properties, which makes it the best thing to use on your skin to treat sunburn. The gel will heal your sunburned skin and also retain the moisture level. While soothing the sunburn, the gel will also remove the suntan. To whip up an aloe vera gel mask to treat sunburn, extract the aloe vera gel and squeeze juice of half a lemon. Mix well and massage this onto the affected area. After 20 minutes rinse it off with cool water.
Minimizes stretch marks
If you want to get rid of your unsightly stretch marks, you can use aloe vera gel on your skin. Though it will not completely remove the marks, it will minimize the visibility as it repairs skin damage and restores skin's elasticity. Mix  equal amounts of aloe vera gel extracted from the plant with rose water. Massage this onto your stretch marks in gentle, circular motions for a couple of minutes. After 20 minutes, rinse it off with cold water and pat dry with a clean towel. Use this pack twice a day to see visible results.
As an exfoliator
Exfoliating the skin is important to get rid of dead cells and clear pores of grime. If you run out of your regular scrub, you can try aloe vera gel mixed with sugar granules for exfoliating the skin. It's an all-natural and gentle way to exfoliate your skin.
To reduce blemishes
Aloe vera has anti-bacterial, anti- inflammatory, astringent and antiseptic properties. These, along with the high moisture content, make it effective in reducing scars and blemishes. Use aloe vera gel mixed with lemon juice on scar marks and brown spots on the skin and watch the marks fade gradually.
To soothe skin
Rubbing ice cubes on the face can shrink the pores and make the skin glow. Now give your ice cube the aloe vera power! Fill the ice cube tray with aloe vera gel and voila, your have an aloe vera gel cube. Rub it on your face for a refreshing boost of freshness or to simply soothe that burn on the skin.
10 Best Aloe Vera Gel Available in Indian Market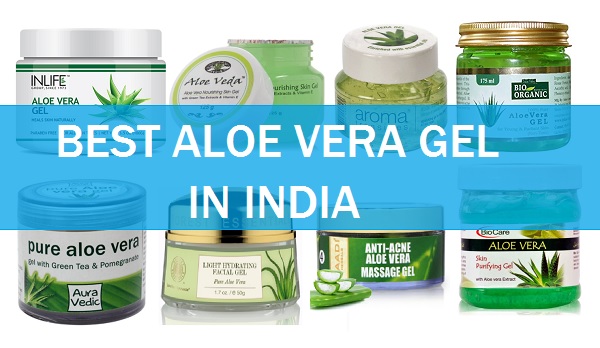 Top Aloe Vera Gel Brands in India with Reviews
Now, let's check out the list of the top aloe vera gels from different brands in the Indian market that can come to your rescue.
1. Patanjali Aloe Vera Gel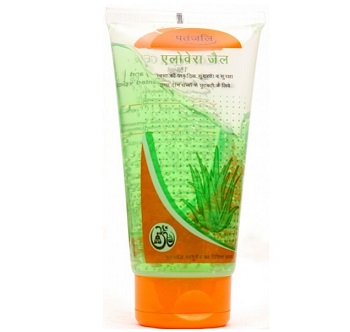 The gel is a pure gel that can be used for the skin and hair. Yes, aloe vera gel can be used on the hair to make them grow faster. It can be mixed with the amla juice or some lemon juice to get rid of the dandruff problem too. Using aloe vera gel daily on the skin can ensure that you get lesser wrinkles and lines on the face. Aloe vera gel is also used along with honey and lemon juice for the skin whitening purpose. Furthermore, it also lightens the dark spots and black marks on your skin. Men too should keep a jar of aloe gel at home as it can be used after shaving as well.
Price: 80 Rupees Buy here
2. Khadi Natural Aloe Vera Gel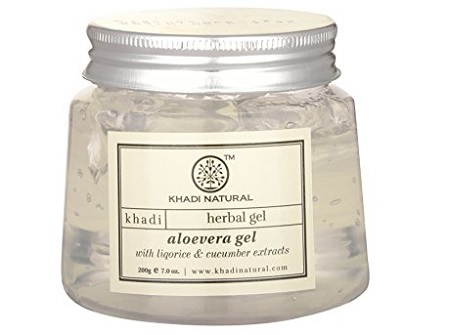 Khadi aloe vera gel is packaged in a tub which is easy to use while I think that the tube like packaging as seen in the Patanjali aloe vera gel is the best as this is more hygienic. The gel is transparent clear and has no other ingredients like kesar, honey etc. This aloe vera gel moisturizes the facial skin and heals the dry areas on the skin. Winter is the time when the skin feels a lot scaly and flaky.
3. Bio Care Aloe Vera Gel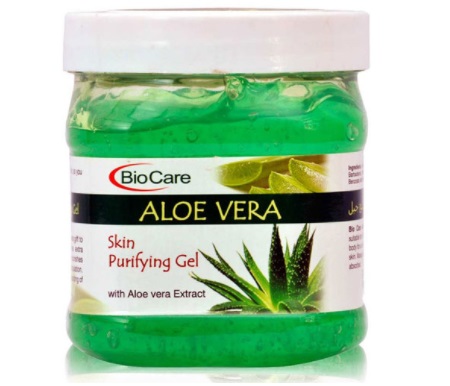 Bio Care Aloe Vera Gel has the pure aloe vera gel which is also greenish in color. The color of the aloe the vera gel is transparent by the way but when the brands make it, most of the time you will find that the color is light greenish. But that does not mean that product is not genuine. Aloe vera gel prevents the skin aging and has natural anti-aging benefits. You can to utilize the power of aloe vera gel by mixing this along with some jojoba oil or avocado oil. Mix and apply daily at night. This makes the skin not just appear glowing but is a potential anti-aging skin care potion too.
Price: 190 Rupees Buy here
4. Indus Valley Bio Organic Non-Toxic Aloe Vera Gel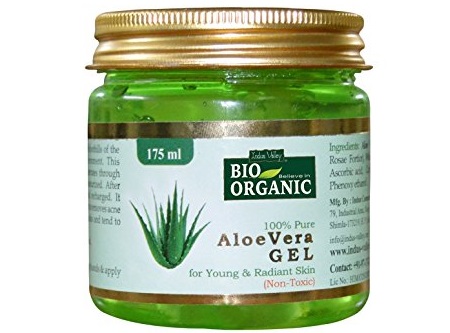 Indus Valley brand makes some of the very organic products and they are really good at it. This Bio Organic Aloe Vera Gel is an excellent aloe vera gel that can do wonder for the skin and hair. This is capable of giving you a glowing skin when the skin is dull and tired and lifeless. It is a non greasy and pure aloe vera gel that even men can try for their facial skin problems.
Price:185 Rupees Buy here
5. Aroma Treasures Aloe Vera Gel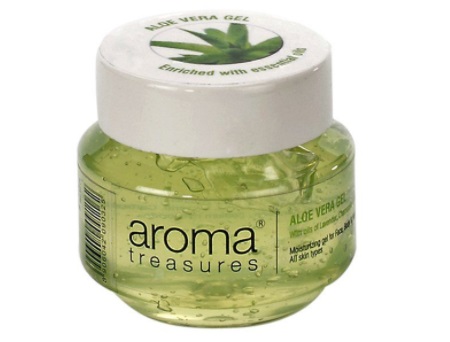 Aroma Treasure's Aloe Vera Gel is one of the best aloe vera gels that we have used. Of course, after the Patanjali one. This has natural anti- bacterial properties and is also able to provide a deeper moisture to the skin. The skin healing properties of aloe vera is suitable to get that lost moisture in the skin back and to keep the skin moisturized for a lot longer in the dry harsh winter season.
Aloe gel can also be used to style your hair. Price of this aloe gel is also very affordable and availability is easy online. Along with the aloe vera this gel also contains the other ingredients that have been proved good for the oily and acne prone skin like the castor oil, vertiver oil, geranium oil, lavender oil.
Price: 96 rupees Buy here
6. INLIFE Aloe Vera Gel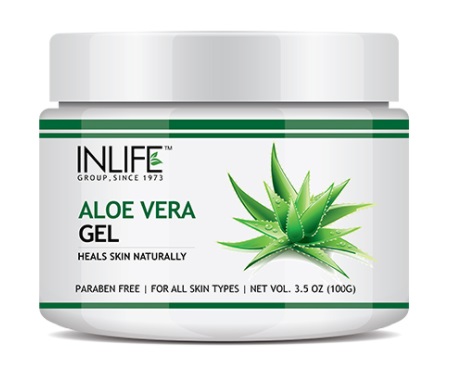 INLIFE Aloe Vera Gel is a paraben free aloe vera gel. The brand is good and makes products which are safe and natural to use. The gel helps in moisturizing the skin and prevents the loss of moisture as well. Applying aloe gel before going out in the sun also ensures the sun protection. Price of this aloe vera gel is quite affordable and in budget for most of the people so, you would also like the benefits that this gel gives.
Price: 180 Rupees Buy here
7. Forest Essentials Pure Aloe Vera Light Hydrating Gel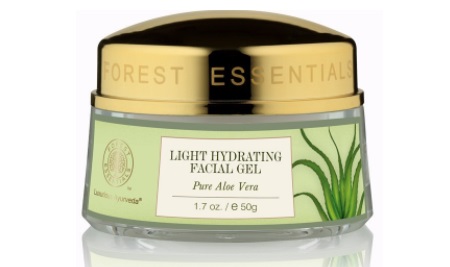 Forest Essentials Pure Aloe Vera Light Hydrating Gel is a pure and organic extract from the Aloe Vera plant. The gel is considered as the natural humectant that retains and adds moisture to the dry skin and hair. Apart from that you can also try using this natural pure gel over the bruises and the insect bites.The chemical-free And the wheat germ therefore, this can act as a super moisturizer for the dry skin types. Price is hefty as the product costs around 1300 rupees, which is simply too much but never to forget that this is a natural and pure product free of those harmful chemicals etc.
Price: 1350 Rupees Buy here




8. Auravedic Pure Natural Aloe Vera Gel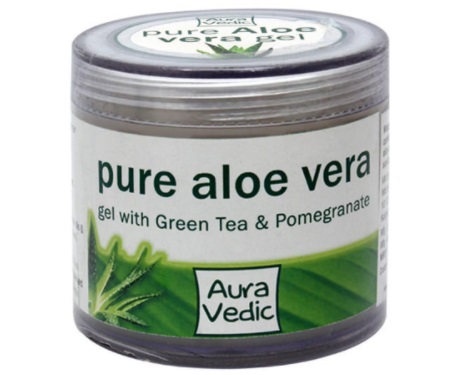 Green tea is one of the most high on antioxidant kind of product which is wonderful. Besides, being excellent of health, green tea is also suitable for oily and acne prone skin. Green tea soothes the skin and reduces the inflammation of the acne infections.
Price: 195 Rupees Buy here
9. Vaadi Herbals Anti Acne Aloe Vera Massage Gel
This aloe vera gel is a unique composition of Aloe vera extracts, jojoba oil and Shea butter. So, while the aloe vera gel acts on the stubborn infected acne, shea butter nourishes the irritated skin and jojoba oil kills the bacterial infection. The gel is safe for even the dry skin and oily skin obviously that is prone to skin issues.
Price: 202 Rupees
10. Aloe Veda Nourishing Aera Gel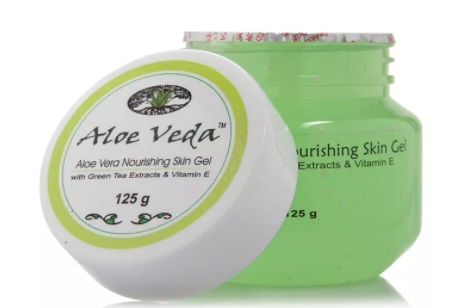 This Aloe Vera Gel is  also contains the green tea and vitamin E along with the Aloe vera leaf extracts. This product acts as a natural skin moisturizer for dry skin, In winters, skin gets extremely dry due to harsh weather conditions so, a products like this can help in combating the dry season problems.
Price: 2783 rupees Buy here
These were the best aloe vera gels from various popular brands available in the Indian market. Have you tried any of these for your skin, hair, acne or hair fall? let us know.